Deliver your message through a customized exhibit experience.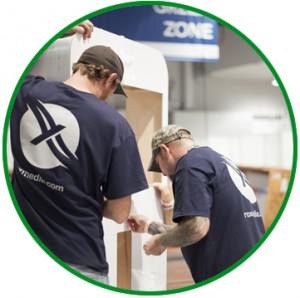 Attending a tradeshow can be a painful experience... but it shouldn't have to be!
Our handpicked group of talented RoxStars know all the ins and outs and how to navigate through the pitfalls and challenges of exhibiting, and we're just crazy enough to love it. But this isn't about us… it's about you. It's about helping you step outside of where you are and refocusing on where you want to be. Whether you're a globally recognized brand or young niche company, we'll help you shine the spotlight on your brand in one of the toughest environments imaginable. We're here to guide you through the project from concept to completion, while freeing you from the monotonous details so you can actually enjoy the experience! You'll wonder how you ever survived a show without us. (Just ask our clients!)
We love to design, detail and execute
Custom Exhibits
Asset Storage & Management
Permanent Installs
3D Modeling & Graphic Design
Rental Exhibits
Install & Dismantle
Portables & POPS
Logistics & Storage
Are you a commitaphobe? Try our rental exhibits.
If you're not quite ready to settle down, we understand. Our rental program lets you play the field without having to lower your standards. Whether you're looking for a quick setup or multi-year program, we can equip you with a custom solution that fits your needs. Low maintenance, attractive and personalized… our rental exhibit may be your perfect match!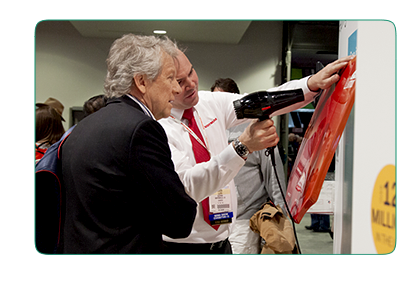 No two businesses are the same, so why should your exhibit be? We're wildly creative and full of ideas that put your brand in the spotlight in one of the most competitive environments imaginable. It's our job to make you stand out while surrounded by your fiercest competitors, and we do that by creating an environment designed to harvest engagement and generate excitement with your brand, your audience and your goals in mind. We're here to help you create an exhibit experience that brings attendees into your space, creates real connections and leaves lasting impressions that live on long after the show.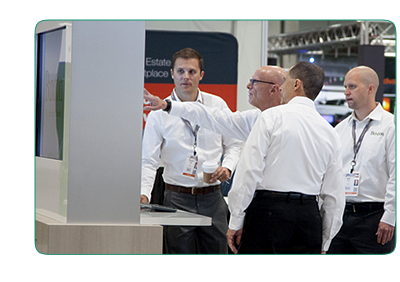 If you build it, will they come? We can cater our programs to include integrated marketing campaigns to generate excitement before the show and extend the experience after the show closes. Our interactive kiosk solutions will help you drive your story through engagement and amplify the face-to-face experience. Our Rox eDox™ tool provides you with a fully branded digital collateral solution that will save you in printing costs and equip you with real-time data on your collateral, audience and sales team. When real-time meets real-life, the possibilities are endless!
We're just like your close relatives on Thanksgiving… we like to get all up in your business. We're not just here to make you look good (although we will); we're here to help you grow and make every show better than the last. Part of our process involves digging into what worked and what didn't at your last show and continuously building on that. By incorporating a measurement strategy into the exhibit experience you'll be able to dig deeper into who attended, how your different audience types engaged with you and how that influenced conversions. It doesn't stop there; by leveraging your exhibit as a data collection tool you can reveal hidden insights about your audience through what we like to call digital body language, and used to identify prospects for your lead nurturing program after the show. We're here to help you prove that live experiences deliver real results!